MINERAL BASES
Contact Us
Showroom Now Open
By Appointment


CLICK BACK
TO RETURN TO HOME PAGE


RETURN TO MINERAL BOXES

Introducing our new
GEM AND MINERAL STANDS

NEW 'Do It Yourself!' display stands
OUR PRICES ARE BASED ON QUANTITY.
Go Directly to:
Payment Terms


New Bases For Displaying Mineral, Gems, Fossils,
Sea Shells and other Collectibles
To Place an Order



We are manufacturers of a wide range of plastic presentation boxes including jewelry boxes (jewellery boxes), ring boxes, pendant boxes, brooch boxes, mineral boxes, gem boxes, specimen boxes, fossil boxes, magnifying boxes, display domes, minerals specimen stands, fishing lures and many other products in a wide variety of materials.

We are injection moulders, tool makers and also offer a range of other services such as ultrasonic welding, EDM spark erosion, product development, graphic design, pad printing, hot foil stamping and image transfer.


Wholesale, Wholesale, Wholesale!
BUY IN BULK
THE ENTIRE YEAR
AND SAVE $'S


GEM AND MINERAL BASES


NOW IS THE TIME TO PURCHASE
YOUR MINERAL BOXES, GEM BOXES
AND JEWELRY BOXES!
ALL PRICES ARE IN AUSTRALIAN DOLLARS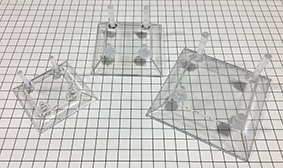 The Background Grid is 1 cm square
So you can guage the size of the product
GEM AND MINERAL DISPLAY STANDS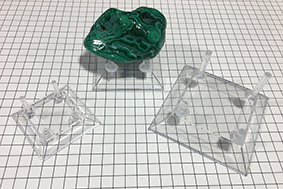 ENHANCE YOU COLLECTION
Increase your sales!
Display Your Specimens For High Visual Impact
Our new plastic bases are made in 3 sizes and are only sold as a set. They are made in 3 colours, black, white and clear. They will surely enhance your mineral, gem or fossil collection. Posts are available which will transform these mineral bases into great looking mineral stands.
MINERAL STAND SIZES
1 - 60 mm x 60 mm x 12 mm high
2 - 75 mm x 75 mm x 16 mm high
3 - 95 mm x 95 mm x 18 mm high


Plus P & H


HIT THE BACKTO RETURN TO HOME PAGE


MINERAL BASES
| | | |
| --- | --- | --- |
| | | |
| Black Base | White Base | Clear Base |
| | | |
NOW INCLUDING POSTS!
Quantity and Resellers Discounts.


NEW!!!

Go Directly to
Mineral Stands
Prices

These new gem and mineral display stands
are made in black, white and clear plastic.
The sets include 4 posts per base which
are easily adhered using general purpose
thinners or acetone. Once adhered, the posts
are 'welded' to the stand and cannot be removed.

The advantage of separate posts is that the
posts may be positioned anywhere on the base
to suit a host of shapes and sizes of gems,
minerals, crystals, fossils, meteorites,
eggs, spheres or other artifacts.
INSTRUCTIONS
The posts are adhered to the base using a solvent or paint thinner.
All you will need is metal lid of a coffee tin and tissue paper (we use serviettes)
And protective layer over your table as the solvent could destroy
a painted or varnished surface if spilled!
Place our a small piece of tissue onto the metal lid.
Pour a small amount of solvent onto the paper, just enough to dampen it.
Dip the base of the post onto the tissue and quickly and firmly
press it onto the desired position on the base. Twisting the post in your fingers
will dissolve the plastic to form a bond.
DO NOT try to change position of the post as this will remove the polish.
Continue the process until all the posts are in position.

CLICK BACK
TO RETURN TO HOME PAGE



RETURN TO MINERAL BOXES


MINERAL STANDS
ASSEMBLED

INSTRUCTIONS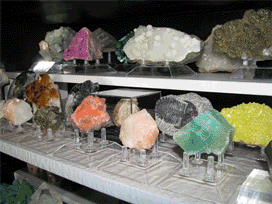 Watch the sequence to see all possibilities.
RETURN TO MINERAL BOXES
MINERAL STANDS
CLICK BACK
TO RETURN TO HOME PAGE